Our church was founded in the spring of 1872 by the East Pennsylvania Eldership.  Up until that time, it had been a part of the Morrison's Cove and Stonerstown Circuit, which was established shortly after the Elder John Winebrenner, founder of the Churches of God, had delivered a series of sermons at a Camp Meeting at Henrietta in 1849.
The church quickly outgrew their meeting place and a new, larger building was constructed nearby in 1881, only to be destroyed by a fire in 1889.  The church, unhindered by the hardship, built a third structure at what is known as "The Five Points" (intersection of East Main, Spang, and Church Streets).  This building has been enlarged and improved over the years as the church grew and expanded their ministry.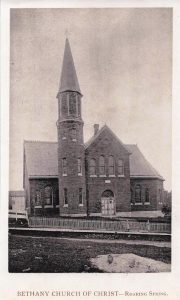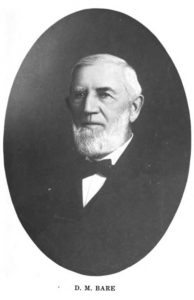 In 1928, a new Sunday School wing was financed by Mrs. Ella Bare Garver, Mrs. Anna Bare Eldon, and Mr. and Mrs. E.G. Bobb, in honor of their beloved father, Daniel Mathias Bare.  The church has since been known as Bare Memorial Church of God. 
D. M. Bare was a key player in the growth and development of our town and our church.  He worked hard to establish and improve the community in Roaring Spring — a community that he designed, with his family, to work together to support each other.  He humbly served as Sunday School teacher and Elder in our church for over 50 years.  He was well-known for his humble generosity, even throughout the Churches of God — a dormitory at the University of Findlay in Ohio still bears his name.
D. M. Bare was a difference maker.  He set the example for us to follow, even many generations later.  We want to help you make a difference — in yourself, in your family, in your friends and coworkers, in our community, in our country, and in the rest of the world.
Our Vision
By making disciples who make a difference in other's lives, locally and globally, we strive to connect with future generations so that they will grow and continue God's work, wherever he leads.
Be a difference maker.
As part of the Churches of God General Conference, we believe that the Bible is the inspired word of God and our only rule of practice.  We encourage you to seek, ask questions, and discover the truth of God's Word, for yourself.  Below you will find a summary of what we believe and practice.  This is not intended to be the final word on the faith and practice of the Churches of God — only God's Word can do that.